Facilities and Equipment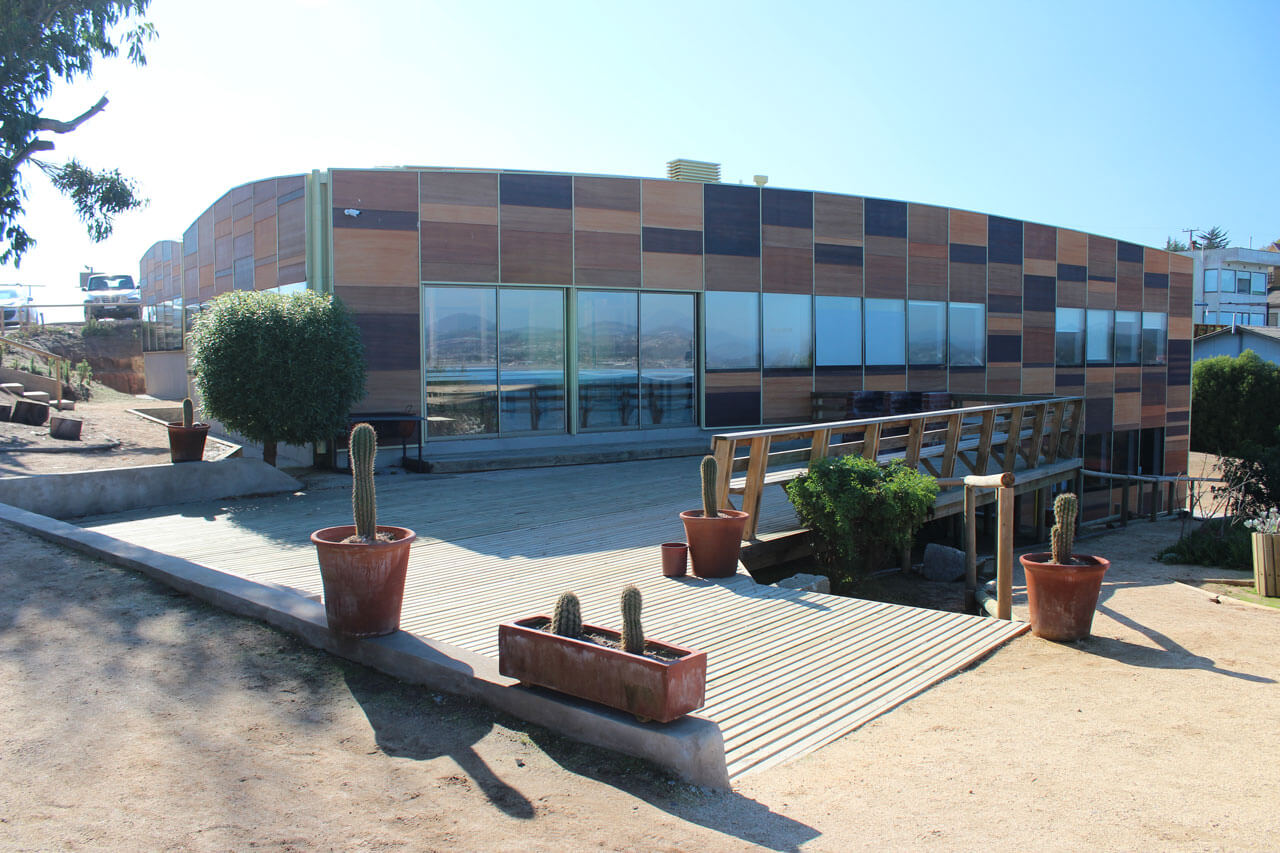 The infrastructure of ECIM has been modified and transformed substantially since its beginning as a field station to become the modern and diverse laboratory that it is today. Currently, ECIM facilities include the equipment and infrastructure necessary to perform scientific research in diverse fields of marine biology, ecology, and costal oceanography. There are teaching 'classrooms' designed for teaching marine biology at the highest level, research labs, as well as, auditoriums and conference rooms for scientific meetings and workshops. Accommodations are available to researchers and students on the premises. Additionally, a children's library and a small hands-on aquarium are used to receive young students in our educational outreach programs.
Teaching laboratories and classrooms include: a) one wet laboratory for experiments with access to non-filtered seawater and air with a capacity of 20 students, b) one wet laboratory with capacity for 50 students, c) one wet laboratory for the preparation of samples and d) one dry laboratory for taking measurements with scientific instruments. Students also have access to a classroom with 12 computers and an auditorium with a capacity for 40 students with desk space. The person in charge of the administration of teaching spaces and support to university courses held in ECIM is Mr. Ricardo Calderon.
The spaces dedicated to scientific workshops and meetings include:
Research
The research laboratories at ECIM are thought of as service laboratories that are shared amongst all resident and visiting researchers. These spaces include shared common spaces and assigned laboratory areas for the duration of individual projects. The research laboratories at ECIM include:
three dry laboratories (without access to seawater) for the processing of biological samples,
one dry lab for the processing of formaldehyde-fixed samples (i.e. plankton) and drying ovens,
a dry laboratory dedicated to the analysis of bacterial biofilms, biofouling, y marine biocorrosion (MERIC),
a temperature-controlled chamber with five independent culture chambers with capacity to photoperiod and temperature regimes,
two roofed spaces with natural light and air temperature (no walls) for experiments in aquaria with seawater (open circuit) and air flow,
one wet laboratory (with seawater and air flow) dedicated to the study of invertebrate larvae and marine microalgae, g) one wet lab for biocorrosion and biofouling (MERIC),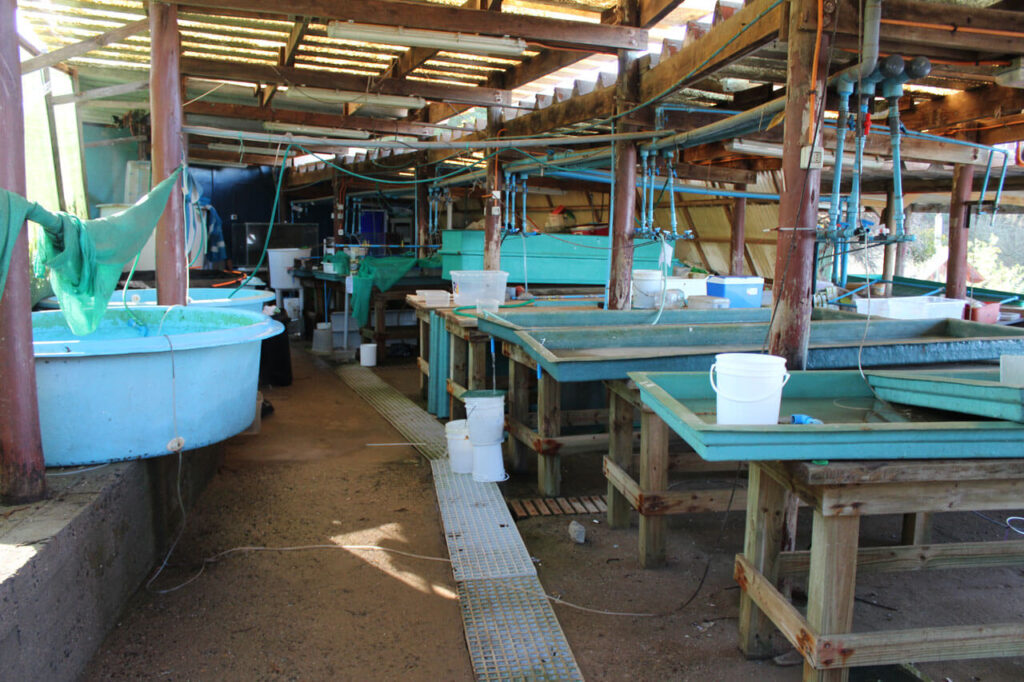 All wet laboratories have access to non-filtered raw seawater, pre-filtered seawater (must be requested separately) and air flow. The use of spaces with seawater comes with an extra cost for researchers.
ECIM has the infrastructure for scientific scuba diving, which includes a compressor to re-fill tanks, scuba diving equipment (tanks, vests, regulators and weight belts; each diver is responsible for their own mask, fins, and thermal protection), changing rooms, lockers, and security equipment. Any researcher wishing to conduct scientific (or recreational) diving with ECIM equipment should be a licensed diver and comply with ECIM Diving Regulations and follows all instructions from Dive Officer, Dr. Randy Finke.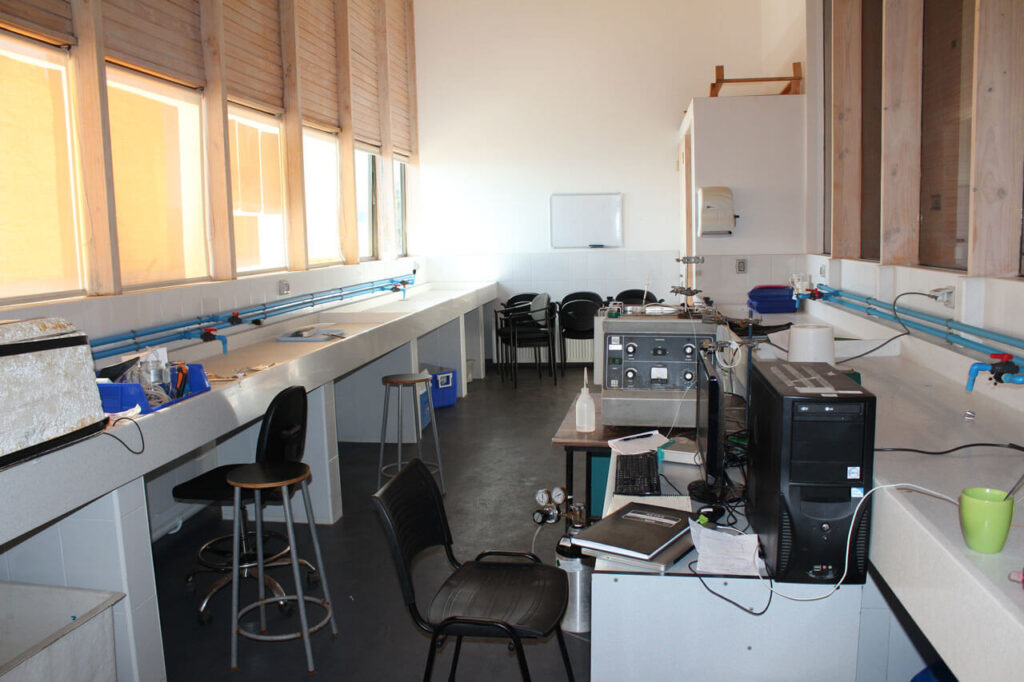 Two smaller vessels are also available within ECIM in order to conduct oceanographic and biological studies in the coastal zone. The Ilán is a fiberglass boat, 8.4 meters long, and can accommodate 6 people. The boat also has a dry cabin, a flat workspace, GPS echo-sounder, communication system, pulley system to lift instruments, and meets all safety standards for operation in the coastal zone.
ECIM also maintains a meteorological station, which registers temperature, relative air humidity, atmospheric pressure, rainfall, wind direction and velocity, solar radiation, total-UV radiation, UV-A, and UV-B. The majority of these data are available for free format use upon request. Additionally, ECIM possesses three Seabird 19 CTDO profilers (conductivity, temperature, density, and oxygen) equipped with WetLabs fluorometers, acoustic current profiler, ADCP, RD Instruments of 600 MHz. All equipment is available to UC researchers at a cost that allows for the maintenance and calibration of these instruments. Dr. Randy Finke is in charge of oceanographic instruments and research vessels.